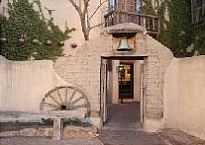 Unique among art galleries, Nedra Matteucci Galleries in Santa Fe, New Mexico, is recognized around the world for its collection of contemporary and historic art. Since its founding in 1972, the gallery has sought to expand and refine its diverse collection of important paintings and sculpture. Today the gallery specializes in 19th and 20th century American art, including the Taos Society of Artists, artists of the American West, and masters of American Impressionism and Modernism. An extensive selection of Russian Realist paintings is also featured. Leading contemporary painters and sculptors that represent the depth and diversity of modern western art are also a major part of the comprehensive collection of artists the gallery exhibits.
Unsurpassed and central to the gallery's collection are historic Western and Southwestern works of art. Members of the Taos Society of Artists, including J.H. Sharp, Ernest Blumenschein, Victor Higgins, O.E. Berninghaus, E.I. Couse, and E. Martin Hennings are well represented. This distinguished group of artists preceded by Charles Russell and Frederic Remington changed the way America sees its western heritage. As highly trained professional artists, the Taos founders applied European painting techniques to uniquely American subject matter. In particular, Nicolai Fechin and Leon Gaspard, both of Russian decent, made exceptional contributions when they joined the growing Taos artist colony in the early 20's. Their vibrant impressionistic oil paintings are treasured by American collectors.
As Taos and Santa Fe became the cultural center of the West, the maturing art colony played an important role in the development of progressive art movements worldwide. Works by modernist painters in New Mexico such as John Marin, Georgia O'Keeffe and Josef Bakos are also represented. Important historic artists associated with Santa Fe such as Fremont Ellis and Eric Sloane have been the recent subjects of retrospectives at the gallery.
The gallery itself is a spacious adobe that is warm and inviting; the diversity found throughout the historic compound is remarkable. A visitor should not miss the large collection of Native American artifacts, fine jewelry, and collectibles from around the world. The highlight of its physical surroundings and pride of owner Nedra Matteucci is the beautiful one-acre sculpture garden. Monumental works in stone and bronze by contemporary sculptors: Felipe Castañeda, Glenna Goodacre, Doug Hyde, George Lundeen, Dan Ostermiller, and Fritz White each add their celebrated style and subject matter to the broad selection of sculpture.
The gallery's outstanding group of contemporary painters - William Acheff, Walt Gonske, Curt Walters, John Moyers, Terri Kelly Moyers, Gary Niblett and William Whitaker - are equally exciting and diverse. Represented are landscapes, wildlife, Southwestern and figurative paintings.
Nedra Matteucci Galleries also owns
Morning Star Gallery
in its historic location at 513 Canyon Road, which displays an outstanding collection of Native American antiques.